Mi Sala de Sistemas
(3)
En el siguiente crucigrama encontraras las palabras que con mayor frecuencias usamos en nuestra Sala de Sistemas, incluidas las Normas o Reglas para su uso.
Created by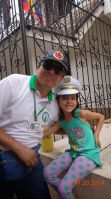 Top 10 results
1

3

4
Do you want to stay in the Top 10 of this activity?
Log in
to identify yourself.
Create your own free activity from our activity creator
Compete against your friends to see who gets the best score in this activity